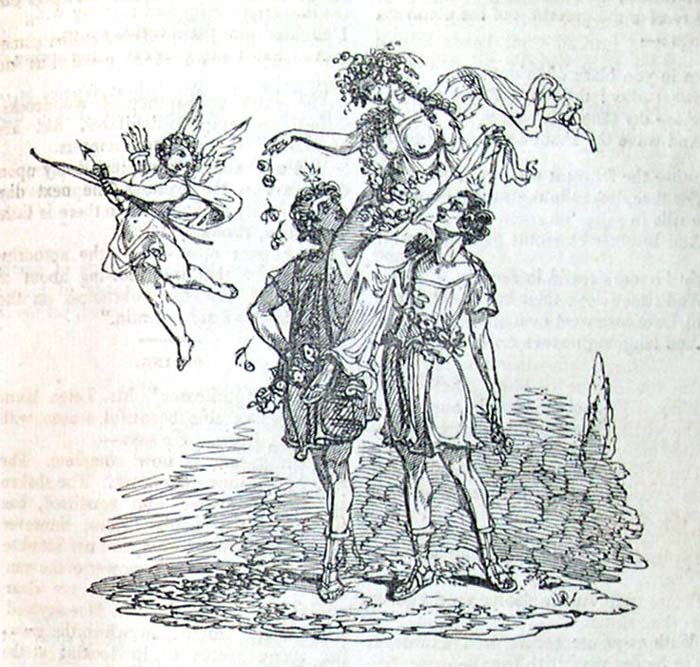 MAY.
Then came faire MAY, the fayrest mayd on ground,
Deckt all with dainties of her seasons pryde,
And throwing flow'res out of her lap around:
Upon two brethren's shoulders she did ride,
The twinnes of Leda; which on either side
Supported her, like to their soveraine Queene.
Lord! how all creatures laught, when her they spide,
And leapt and daunc't as they had ravisht beene!
And Cupid Selfe about her fluttred all in greene.

Spenser.
So hath "divinest Spenser" represented the fifth month of the year, in the grand pageant which, to all who have seen it, is still present; for neither the laureate's office nor the poet's art hath devised a spectacle more gorgeous. Castor and Pollux, "the twinnes of Leda," who appeared to sailors in storms with lambent fires on their heads, mythologists have constellated in the firmament, and made still propitious to the mariner. Maia, the brightest of the Pleiades, from whom some say this month derived its name, is fabled to have been the daughter of Atlas, the supporter of the world, and Pleione, a sea-nymph. Others ascribe its name to its having been dedicated by Romaius to the Majores, or Roman senators.
Verstegan affirms of the Anglo-Saxons, that "the pleasant moneth of May they termed by the name of Trisnilki, because in that moneth they began to milke their kine three times in the day."
Scarcely a poet but praises, or describes, or alludes to the beauties of this month. Darwin sings it as the offspring of the solar beams, and invites it to approach and receive the greetings of the elementa[l] beings:—
Born in yon blaze of orient sky,
Sweet May! thy radiant form unfold;
Unclose thy blue voluptuous eye,
And wave thy shadowy locks of gold.

For thee the fragrant zephyrs blow,
For thee descends the sunny shower;
The rills in softer murmers flow,
And brighter blossoms gem the bower.

Light Graces dress'd in flowery wreaths,
And tiptoe Joys their hands combine;
And Love his sweet contagion breathes,
And laughing dances round thy shrine.

Warm with new life, the glittering throng
On quivering fin and rustling wing
Delighted join their votive songs,
And hail thee, goddess of the spring.

One of Milton's richest fancies is of this month; he says, that Adam, discoursing with Eve—
Smil'd with superior love; as Jupiter
On Juno smiles, when he impregns the clouds
That shed May-flowers.

Throughout the wide range of poetic excellence, there is no piece of higher loveliness than his often quoted, yet never tiring
Song on May Morning.
Now the bright morning star, day's harbinger,
Comes dancing from the east, and leads with her
The flowery May, who from her green lap throws
The yellow cowslip, and the pale primrose.
Hail, bounteous May! that dost inspire
Mirth, and youth, and warm desire;
Woods and groves are of thy dressing,
Hill and dale both boast thy blessing!
Thus we salute thee with our early song,
And welcome thee, and wish thee long.

With exquisite feeling and exuberant grace he derives Mirth from—
The frolic wind that breathes the spring
Zephyr, with Aurora playing
As he met her once a Maying;

and, with beautiful propriety, as regards the season, he makes the scenery
———beds of violets blue, And fresh blown roses wash'd in dew.
The first of his "sonnets" is to the nightingale warbling on a "bloomy spray" at eve, while, as he figures,
"The jolly hours lead on propitious May"
In "a Conversational Poem written in April," by Mr. Coleridge, there is a description of the nightingale's song, so splendid that it may take the place of extracts from other poets who have celebrated the charms of the coming month, wherein this bird's high melody prevails with increasing power:—
All is still,
A balmy night! and tho' the stars be dim,
Yet let us think upon the vernal showers
That gladden the green earth, and we shall find
A pleasure in the dimness of the stars.
And hark? the nightingale begins its song.
He crowds, and hurries, and precipitates
With fast thick warble his delicious notes,
As he were fearful, that an April night
Would be too short for him to utter forth
His love-chaunt, and disburthen his full soul
Of all its music!

———I know a grove
Of large extent, hard by a castle huge
Which the great lord inhabits not: and so
This grove is wild with tangling underwood,
And the trim walks are broken up, and grass
thin grass and king-cups grow within the paths.
But never elsewhere in one place I knew
So many nightingales: and far and near
In wood and thicket over the wide grove
They answer and provoke each other's songs—
With skirmish and capricious passagings,
And murmers musical and swift jug jug,
And one low piping sound more sweet than all—
Stirring the air with such a harmony,
That should you close your eyes, you might almost
Forget it was not day! On moonlight bushes,
Whose dewy leafits are but half disclos'd,
You may perchance behold them on the twigs,
Their bright, bright eyes, their eyes both bright and
Glist'ning, while many a glow-worm in the shade
Lights up her love-torch.———

——Oft, a moment's space,
What time the moon was lost behind a cloud,
Hath heard a pause of silence: till the moon
Emerging, hath awaken'd earth and sky
With one sensation, and those wakeful birds
Have all burst forth in choral minstrelsy,
As if one quick and sudden gale had swept
An hundred airy harps! And I have watch'd
Many a nightingale perch'd giddily
On blos'my twig, still swinging from the breeze,
And to that motion tune his wanton song,
Like tipsy Joy that reels with tossing head.

---